Blundstone All-Terrain Rustic Brown Boot, 2056
Regular price
$280.00 CAD
Regular price
$280.00 CAD
Sale price
$280.00 CAD
Unit price
per
Sale
Sold out
Size Chart
Blundstone
Description
Blundstone #2056 All-Terrain in Rustic Brown features a unique Vibram® sole for grip on snow, mud and muck, and quick release of those materials as you walk. Legendary Blundstone all-season comfort on a sole platform that means a light, comfortable and durable boot. The new tread design has a higher ratio of surface contact for increased stability and grip on uneven terrain. Together with Vibram®, Blundstone set out to create a product that looks as good as their best-selling lifestyle range while taking the sole to the level. The unisex series based on the seminal Chelsea boot has all the hallmarks of the signature boot in design, style and comfort.
Features
Self-cleaning outsole design proprietary to Blundstone. Excellent grip on wet, muddy and slippery surfaces.
Vibram® TC4+ technology sole.
Premium weatherproof leather.
Vibram® thermo-urethane outsole resistant to hydrolysis and microbial attack.
Injection molded Vibram® rubber outsole and PU midsole with patented SPS at strike zones for all-day comfort and shock absorption.
Highly resistant to oil, organic and inorganic acid.
Heat resistant sole to 300°C and specifically rated to maintain performance down to -15°C.
Lightweight and flexible.
Premium Comfort Lite removable footbed: breathable, washable and anti-microbial
Extra set of footbeds for fit adjustment.
Hidden stitching in the heel.
Leather lined.
Share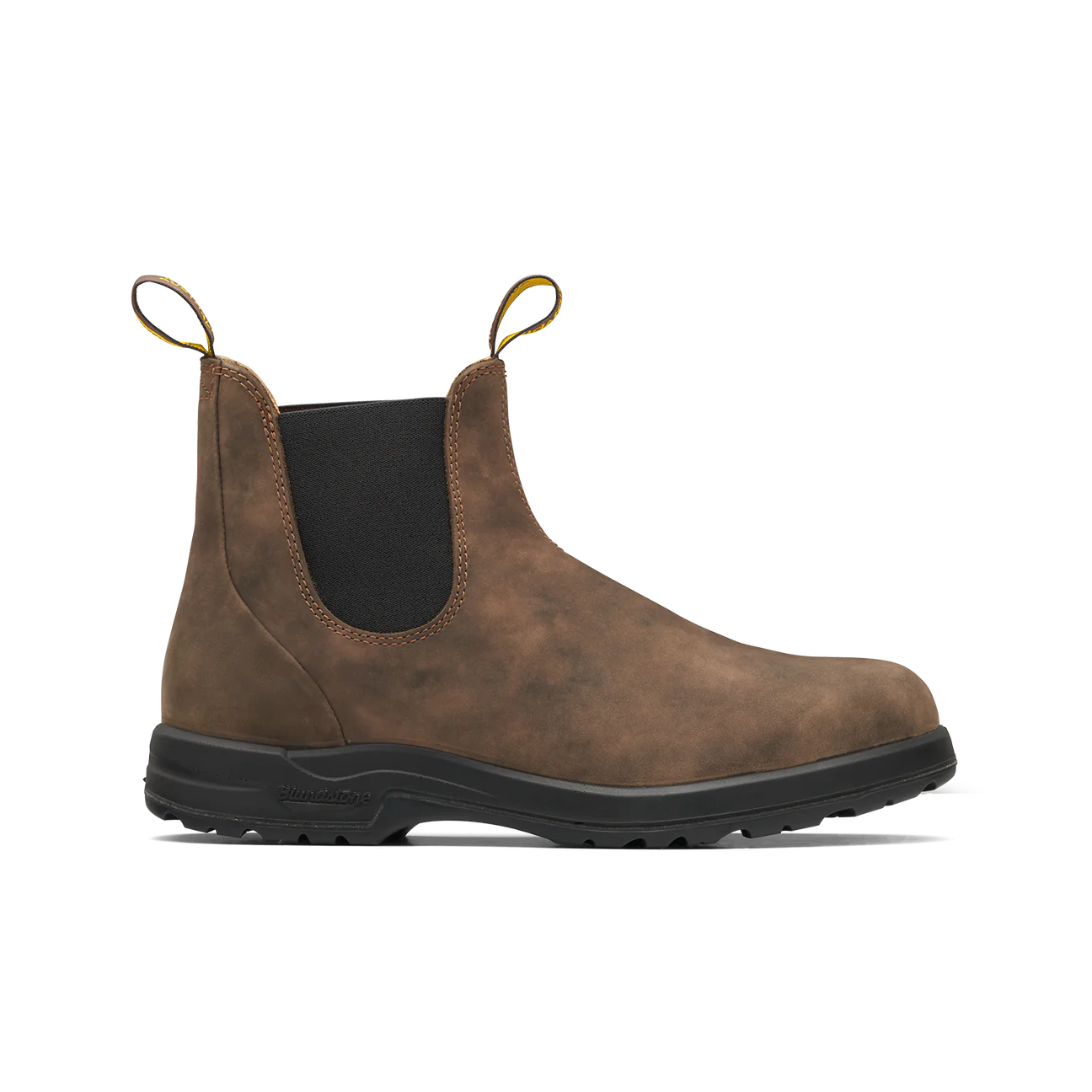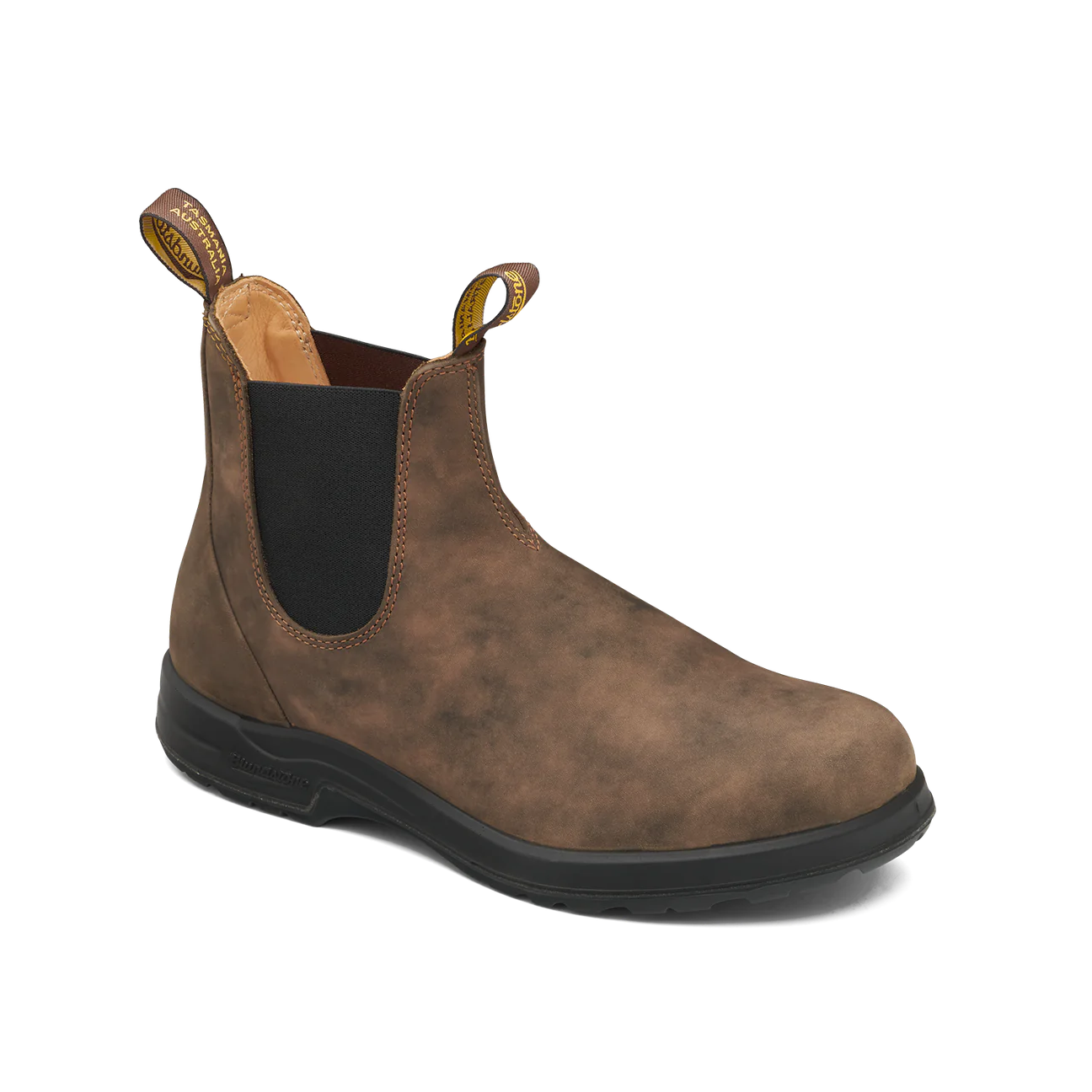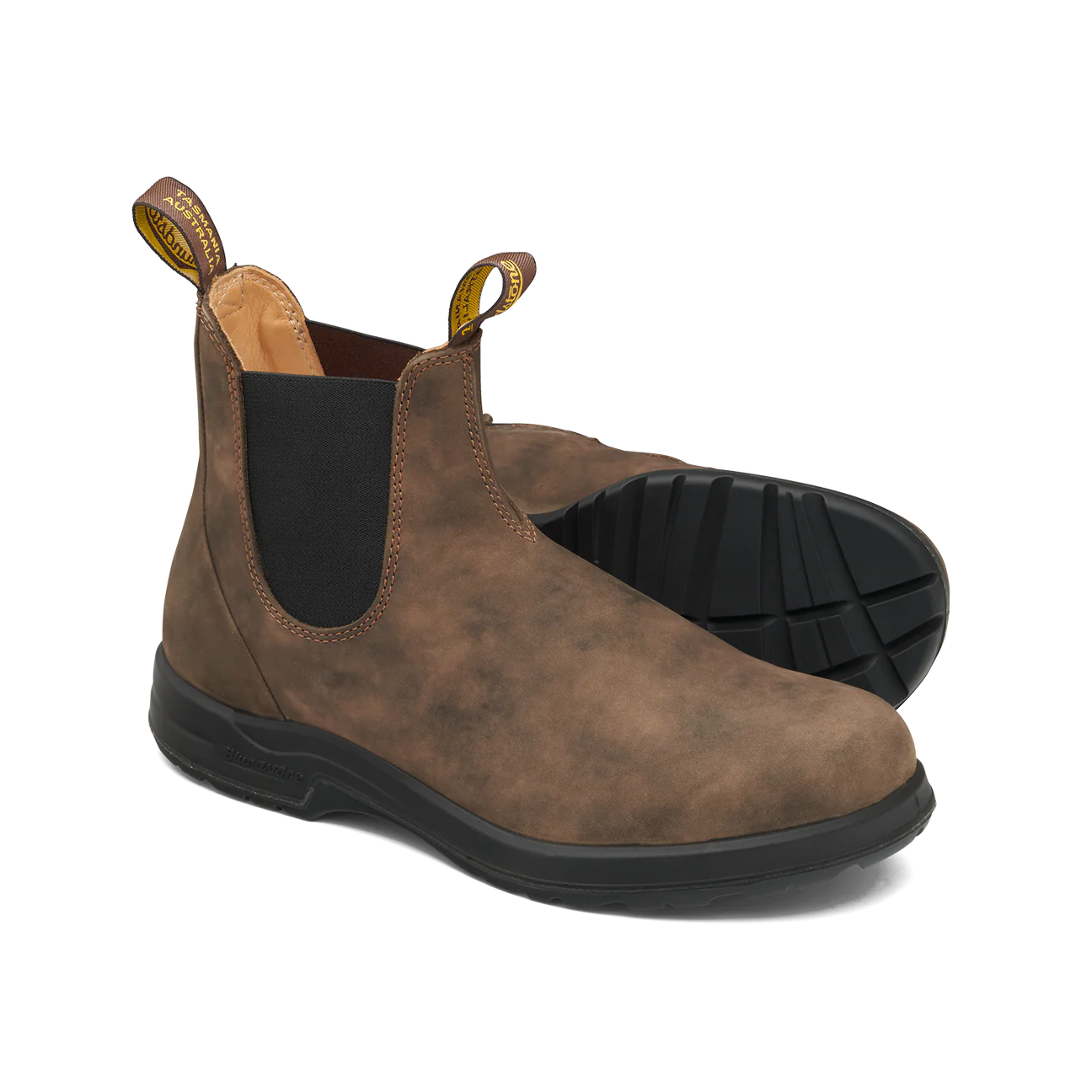 Blundstone Size Chart
BLUNDSTONE: UNISEX (CLASSIC, DRESS, ACTIVE AND CSA)
| | |
| --- | --- |
| UK SIZING | CANADIAN / US SIZING |
| 3 UK | 4 M / 6 L CAN / US |
| 3.5 UK | 4.5 M / 6.5 L CAN / US |
| 4 UK | 5 M / 7 L CAN / US |
| 4.5 UK | 5.5 M / 7.5 L CAN / US |
| 5 UK | 6 M / 8 L CAN / US |
| 5.5 UK | 6.5 M / 8.5 L CAN / US |
| 6 UK | 7 M / 9 L CAN / US |
| 6.5 UK | 7.5 M / 9.5 L CAN / US |
| 7 UK | 8 M / 10 L CAN / US |
| 7.5 UK | 8.5 M / 10.5 L CAN / US |
| 8 UK | 9 M / 11 L CAN / US |
| 8.5 UK | 9.5 M / 11.5 L CAN / US |
| 9 UK | 10 M / 12 L CAN / US |
| 9.5 UK | 10.5 M CAN / US |
| 10 UK | 11 M CAN / US |
| 10.5 UK | 11.5 M CAN / US |
| 11 UK | 12 M CAN / US |
| 12 UK | 13 M CAN / US |
| 13 UK | 14 M CAN / US |

BLUNDSTONE: WOMEN'S SERIES (HI TOP, HEEL, LOW HEEL)

| | |
| --- | --- |
| UK SIZING | CANADIAN SIZING |
| 2 UK | 5 CAN / US |
| 2.5 UK | 5.5 CAN / US |
| 3 UK | 6 CAN / US |
| 3.5 UK | 6.5 CAN / US |
| 4 UK | 7 CAN / US |
| 4.5 UK | 7.5 CAN / US |
| 5 UK | 8 CAN / US |
| 5.5 UK | 8.5 CAN / US |
| 6 UK | 9 CAN / US |
| 6.5 UK | 9.5 CAN / US |
| 7 UK | 10 CAN / US |
| 7.5 UK | 10.5 CAN / US |
| 8 UK | 11 CAN / US |

BLUNDSTONE: KIDS
| | |
| --- | --- |
| UK SIZING | CANADIAN / US SIZING |
| 7 UK | CHILD CAN / US 8 |
| 8 UK | CHILD CAN / US 9 |
| 9 UK | CHILD CAN / US 10 |
| 10 UK | CHILD CAN / US 11 |
| 11 UK | CHILD CAN / US 12 |
| 12 UK | CHILD CAN / US 13 |
| 13 UK | YOUTH CAN / US 1 |
| 1 UK | YOUTH CAN / US 2 |
| 2 UK | YOUTH CAN / US 3 |
| 3 UK | YOUTH CAN / US 4 |