Blundstone Dress Rustic Black Boot, 1308
Regular price
$188.00 USD
Regular price
$188.00 USD
Sale price
$188.00 USD
Unit price
per
Sale
Sold out
Size Chart
Blundstone
Description
Formerly Blundstone 1308 Chisel Toe Rustic Black
Our rustic black leather Dress Chelsea is black, relaxed. Easy to care for, easy on the eyes and crafted for long wear. #1308 Dress is Chelsea boot height for excellent support and all-season protection from the elements. All-day comfort, dry feet, no-lace ease in an enduring style for town and trail.
Features
Premium leather.
Polyurethane midsole for improved comfort and cushioning.
Thermo-urethane outsole for improved resistance to hydrolysis and microbial attack.
Steel shank for torsional stability.
Removable footbed.
XRD™ in the heel strike zone.
Extra set of footbeds for fit adjustment.
Leather lined.
Share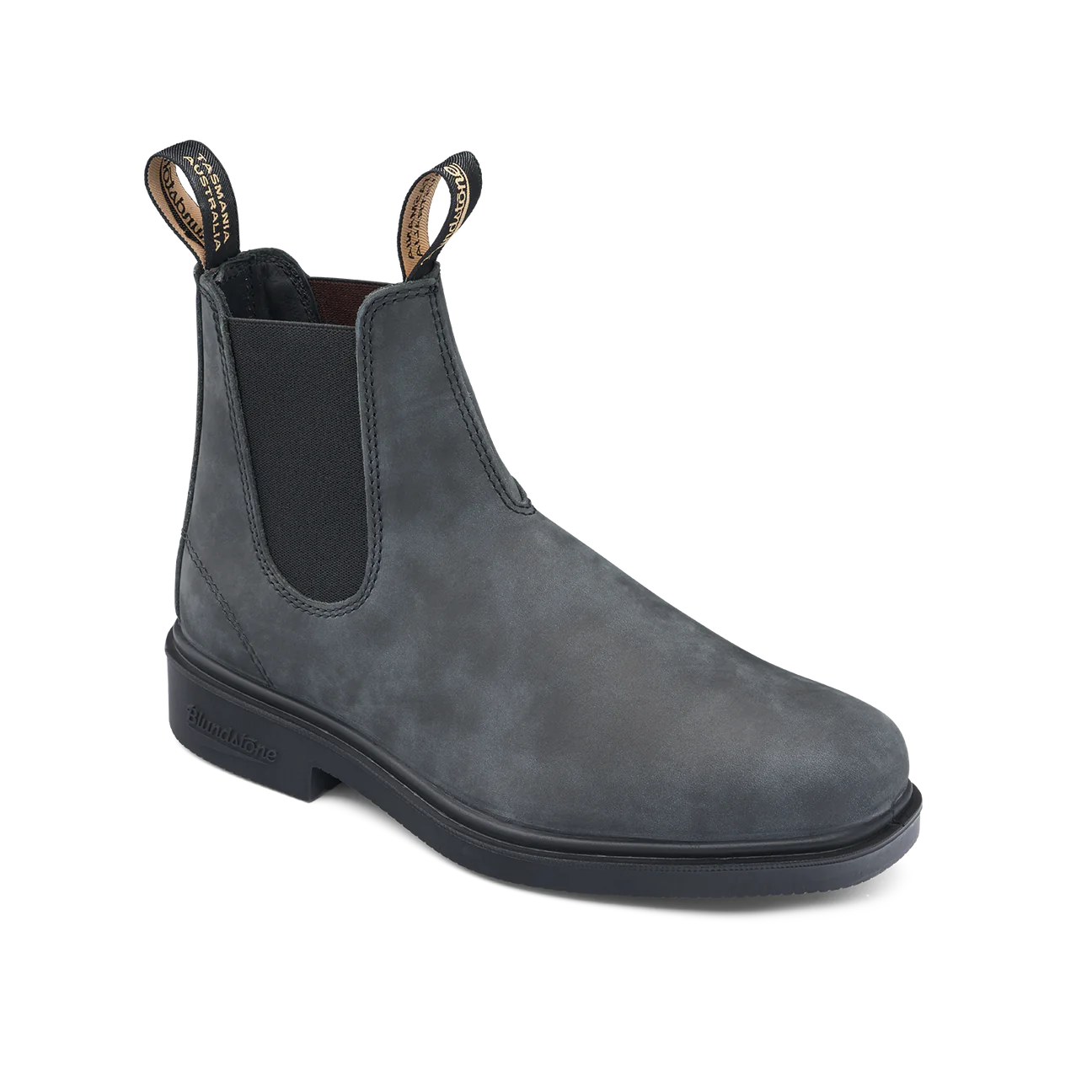 Blundstone Size Chart
BLUNDSTONE: UNISEX (CLASSIC, DRESS, ACTIVE AND CSA)
| | |
| --- | --- |
| UK SIZING | CANADIAN / US SIZING |
| 3 UK | 4 M / 6 L CAN / US |
| 3.5 UK | 4.5 M / 6.5 L CAN / US |
| 4 UK | 5 M / 7 L CAN / US |
| 4.5 UK | 5.5 M / 7.5 L CAN / US |
| 5 UK | 6 M / 8 L CAN / US |
| 5.5 UK | 6.5 M / 8.5 L CAN / US |
| 6 UK | 7 M / 9 L CAN / US |
| 6.5 UK | 7.5 M / 9.5 L CAN / US |
| 7 UK | 8 M / 10 L CAN / US |
| 7.5 UK | 8.5 M / 10.5 L CAN / US |
| 8 UK | 9 M / 11 L CAN / US |
| 8.5 UK | 9.5 M / 11.5 L CAN / US |
| 9 UK | 10 M / 12 L CAN / US |
| 9.5 UK | 10.5 M CAN / US |
| 10 UK | 11 M CAN / US |
| 10.5 UK | 11.5 M CAN / US |
| 11 UK | 12 M CAN / US |
| 12 UK | 13 M CAN / US |
| 13 UK | 14 M CAN / US |

BLUNDSTONE: WOMEN'S SERIES (HI TOP, HEEL, LOW HEEL)

| | |
| --- | --- |
| UK SIZING | CANADIAN SIZING |
| 2 UK | 5 CAN / US |
| 2.5 UK | 5.5 CAN / US |
| 3 UK | 6 CAN / US |
| 3.5 UK | 6.5 CAN / US |
| 4 UK | 7 CAN / US |
| 4.5 UK | 7.5 CAN / US |
| 5 UK | 8 CAN / US |
| 5.5 UK | 8.5 CAN / US |
| 6 UK | 9 CAN / US |
| 6.5 UK | 9.5 CAN / US |
| 7 UK | 10 CAN / US |
| 7.5 UK | 10.5 CAN / US |
| 8 UK | 11 CAN / US |

BLUNDSTONE: KIDS
| | |
| --- | --- |
| UK SIZING | CANADIAN / US SIZING |
| 7 UK | CHILD CAN / US 8 |
| 8 UK | CHILD CAN / US 9 |
| 9 UK | CHILD CAN / US 10 |
| 10 UK | CHILD CAN / US 11 |
| 11 UK | CHILD CAN / US 12 |
| 12 UK | CHILD CAN / US 13 |
| 13 UK | YOUTH CAN / US 1 |
| 1 UK | YOUTH CAN / US 2 |
| 2 UK | YOUTH CAN / US 3 |
| 3 UK | YOUTH CAN / US 4 |